Do you ever drive around town and see a sign for a business or something else and ask yourself, "I wonder what they do there?"  Some businesses are pretty obvious, Sunoco Gas, CVS – got it.  Cambridge Savings Bank?Got it! 
But what about some of the others?   Our mission is to answer the question, what do they do there anyway?
Next up ~ Perch on the Common
Driving up South Road on your right as you approach the Common, you come across a mustard-colored building with a sign, Perch on Bedford Common.    I was always curious as to what they did there.  My first reaction is that it had something to do with the fish.  Was it a seafood place?  Some kind of conservation effort? 
The sign is fairly ambiguous at first glance.  It's a pretty sign with two birds resting on a branch.  Actually resting is not correct, they're perching on a branch.  It only took me several years to understand that.
So What do They Do There Anyway?  
Doing research on them started with our very own article on them in 2013, Coming Soon: Perch on Bedford Common, The Bedford Citizen, July 22, 203.   Like most businesses they have evolved since they opened, and had to adapt during the pandemic.
Perch on the Common is the home to the Herbal Academy of New England (HANE).  Which begs the question, What is Herbal Academy of New England?  

As their name would imply, they are an education center teaching about herbalism.  So what exactly is herbalism?  I reached out to Amber Meyers who is the Herbal Academy Director of Marketing.  Here's what she had to say.
What is herbalism? 
Simply put, herbalism is the use of herbs to improve wellness. Think outside your culinary favorites! Herbs are really any plants, mushrooms, trees, algae, and lichens that have a beneficial impact on the human body. Herbalists, or those that practice herbalism, use various herbal preparations, both internally and topically, such as teas, tinctures (alcohol-based extracts), oils and salves, and many other preparations, to manage acute or chronic imbalances or simply to help the body thrive. The use of plants for wellness has been implicit in cultures around the world for thousands of years, but was less utilized in the 20th century on the whole as focus shifted to the Western medical paradigm. One of our key goals is to positively change the dialogue surrounding herbalism in the modern day. To support our mission to make herbalism accessible, we also need to educate on herbalism's benefits and potential for supporting wellness!
Are you still at that location in Bedford?
Yes, and no! The Herbal Academy was established in 2011, opening our first herbal education programs to the greater Boston community. Our first classes gathered in Woburn, MA. We held weekend classes in a small lakeside cottage right on Horn Pond. As we grew our offerings and classroom size, we moved over to our Perch on Bedford Common building. Our Perch site became the Herbal Academy Headquarters – the main hub for our in-person classes, office space, meeting place for our local team, shipping site for product development as we expanded that department, and everything in between.
A few years ago, we expanded our product line so much that we outgrew the Perch building. We started leasing a separate space, still in Bedford, to use as our ship house. If you aren't familiar with the Perch building, let me tell you it doesn't lend itself well to incoming shipping pallets! 
I know you've been there since 2013; how many people are in the Bedford location? 
For a while, there were about a dozen of us utilizing our Perch building as an office and team space. Over half our team at this time lives outside of Massachusetts. We have team members from all over – from Vermont, Minnesota, Missouri, Colorado, Nevada, even Portugal!  
I know since the pandemic you have moved to all online courses.
From a beginners herbalism program to our more advanced clinical herbalism training courses to in-depth topical short course offerings such as our Botanical Skin Care Course, The Foraging Course, and Making Herbal Preparations 101, by the time the pandemic hit, our online student platform housed about 20 courses in all. So we were quite fortunate to have this online presence and classroom already established!
The pandemic did affect our in-person gatherings at Perch, though. In 2020, we put a pause on using our building as most businesses did. We were forced to think creatively; perhaps the biggest hurdle was finding unique ways for our media team to create course video and photography. Most of our educators ended up filming right from their homes. We moved our speaking engagements to online conferences. The pandemic also put a pause on our local staff meetings. Fortunately, our team is mostly remote, so conducting our business, courses, and regular operations virtually wasn't really much of an adjustment for our team!
At one point you had "hands on" classes and sold herbs at the Bedford location? Correct? 
! We offered a fun variety of hands-on classes from our Vegan Cooking Series to Beekeeping Workshops to Making Herbal Preparations Classes. We do have a product line – mainly herbal products or companions that support our online programs and school merchandise. A product that tied to our Introductory and Intermediate Herbal Courses was our Herbal Starter Kit, which packaged a dozen or so herbs in small quantities, along with recipe cards and containers to equip students with everything they need to start making some herbal products at home. We collaborated on this locally with Cambridge Naturals, just down the road. We've since discontinued our Herbal Starter Kit, but our product collection continues to expand. Some popular items are our Botanical Skin Care Recipe Book, Plant Identification Tote Bag, our Herbalism Calendar, new Botanical Shirts, and Introductory Herbalism Course and Intermediate Herbal Course textbooks. You can find all of our products on our website at theherbalacademy.com/shop/
Is there any plan to go back to that? 
While we do not have any immediate plans to go back to in-person courses, we are always open to new ways of bringing herbalism to people, so it is never off the table. We are also looking forward to in-person conferences opening up again so we can send our teachers back out to speak at local events!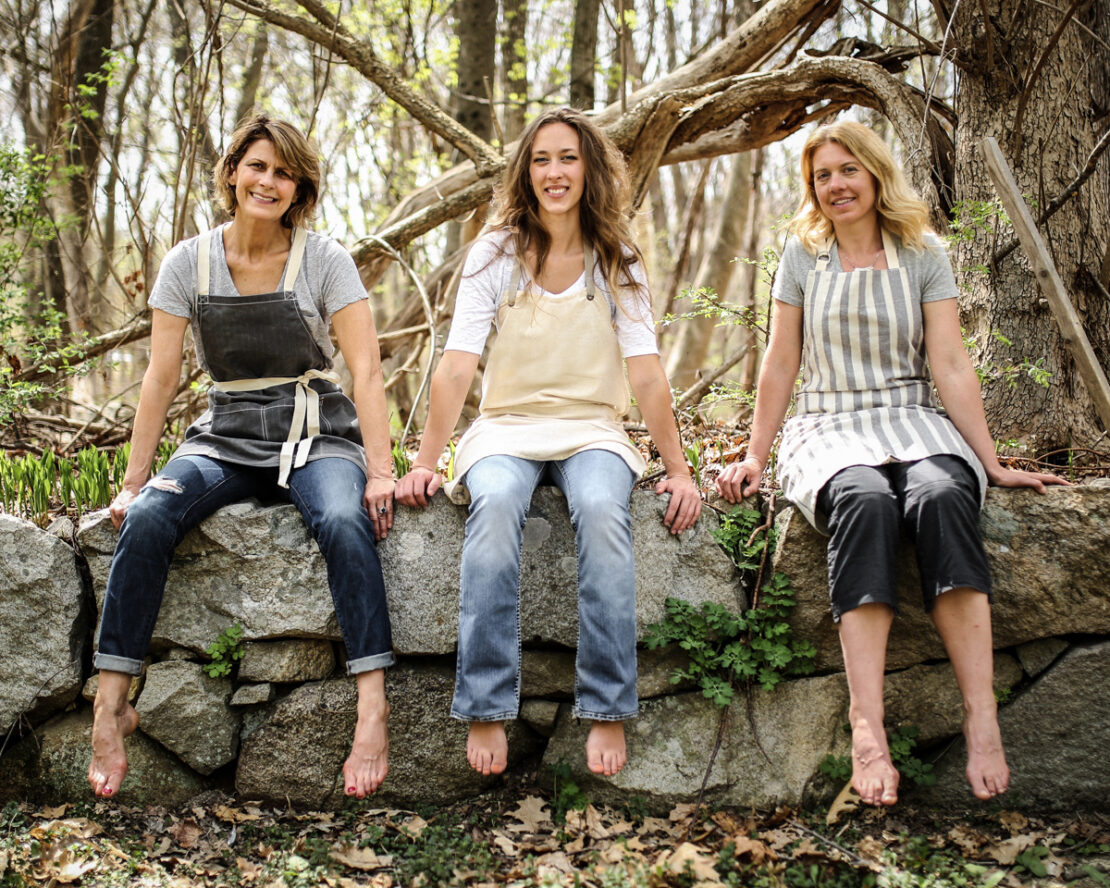 Anything else you'd like to share, specifically about Bedford?
While our community of educators and students is international, we have a really special place in our heart for Bedford, where much of our business started, took place, and flourished. Our school is centered beautifully right in Bedford's Town Common. We've worked with the First Parish Unitarian Universalist Church on a few occasions to hold classes in their space. Our staff frequents Ginger, Ken's NY Deli, Flatbreads, Holi, B.Good, and Whole Foods, all very close, when we meet locally. Some of our team members live in Bedford. Interestingly, one of our local team members has a long running history with Bedford's floral and herbal community with the multi-generational family business, Oxbow Gardens. Bedford's history is so rich, and we are honored to be a small part of it. 
That what Perch does. Do you ever wonder about other companies here in Bedford?  Let me know? 
Thanks.